Production area/Producer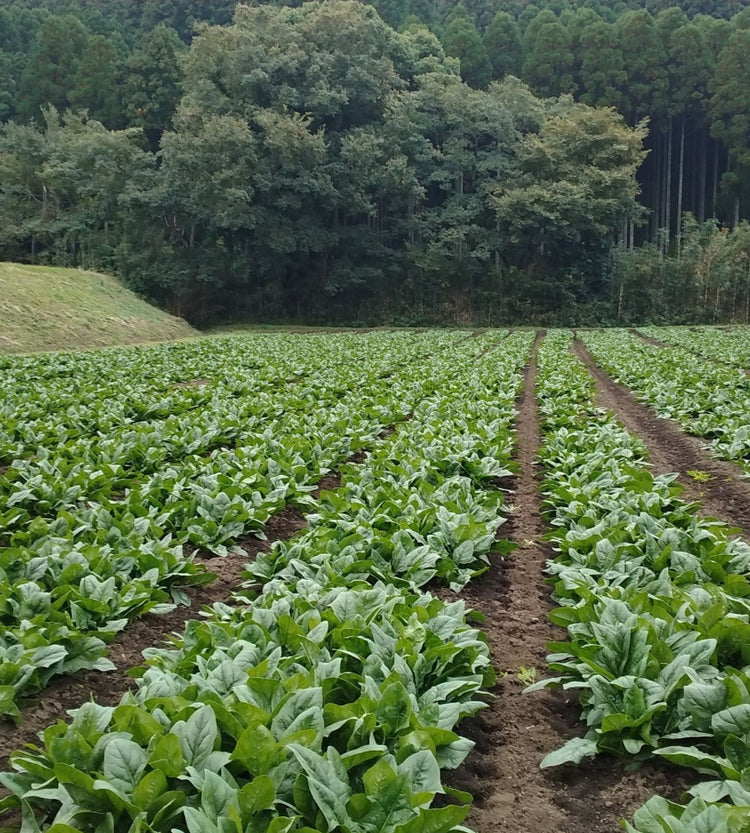 At Kira Foods, we use vegetables from our contracted farmers in addition to our own farms.
We are making products that show the face of the producer.
At Kira Foods, we use vegetables from contracted farmers in addition to our own farms.
We carry out cooperative cultivation with many contracted farmers inside and outside Kyushu.
We carry out cooperative cultivation with many contracted farmers inside and outside Kyushu.
I love Kira Foods, which is serious about growing vegetables.

Tajima Shoten Co.


Representative Director

 Mr. Ryuta Nishino

Self introduction

We sell fertilizers, pesticides and agricultural materials to farmers. In addition, by using these tools to hold study sessions to share various knowledge about agriculture, and by collaborating with experts in fruit trees and vegetables, we will comprehensively solve the problems that farmers have.

Encounter with Kira Foods

I myself was born and raised in Otsu, and I knew about Genhyo since I was in elementary school. It all started when I was invited to join the Chamber of Commerce and Industry because I was the same manager as an adult. My first impression of Kira Foods was that there were many people who were enthusiastic about plants, and many of them were serious about growing vegetables. I am very impressed with the way they act responsibly as professionals in their respective fields. We will create a better foundation by presenting problems within the company, discussing them, consulting and solving them. We are also studying this good circulation.

Thought

It's rewarding to solve the troubles of farmers. In the case of Kira Foods, they are dried vegetables, so they need to harvest many tons at a time. It is very important to grow the vegetables bigger than normal vegetables, so we fine-tune the amount and blend of fertilizers according to the timing of plant growth.
In addition, a large amount of harvest means that the field must be large. The condition of the soil in a large field is uniformed, and the soil is inspected regularly over many years to ensure that there is no unevenness throughout the field. Nothing brings me more joy than seeing such a commitment to crops come to fruition. Kira Foods also has various problems such as timing, quantity, taste, and illness, but the most important thing is to get close to them and solve them. During the Kumamoto earthquake, dried vegetables were very useful at evacuation centers because they could be stored without using electricity. We are grateful to be a partner who can contribute to society together.

Future with Kira Foods

At this stage, Kira Foods' products reach consumers' mouths, and we feel that we are indirectly part of the cycle of happiness. However, from now on, I would like to work together with them to grow dried vegetables that are needed by society, such as creating successors for agriculture and improving the nutrition of the products themselves. In the first place, there are many elderly people in the industry as a whole, so we need services and systems that are kind to the body, and we also want to improve the knowledge of agriculture for young people and create a community where they can teach each other. Farmers are becoming more specialized in the fields of the vegetables they grow, so I would like to share this with them to increase productivity and help them to sustain their production as long as possible.

A company that can grow together
That is Kira Foods

Kira Foods Raw Material Team
Mr Takuma Hirakawa

Self introduction

The team that produces vegetables in-house at Kira Foods cultivates and harvests raw materials. By growing and managing three types of vegetables, spinach, Japanese mustard spinach, and daikon radish in 20 fields, we are able to stably deliver raw materials to the factory.

Encounter with Kira Foods

From my admiration for making food by myself, I had a feeling that I wanted to challenge the world of agriculture. I have a connection with the current representative as a classmate, and when I quit my previous job, I consulted with him, which led me to work. I enjoy working in agriculture, which is difficult for me alone, thanks to the company of my colleagues and the mechanization of the environment. Kira Foods has a management philosophy of "everything is to create a good company." Not only the representative but also all the employees are earnestly realizing the philosophy, so if what you want to do leads to contributing to the company, the company will fully support you. I think the current environment is very good.

Thought

It is very important to make the first soil to grow vegetables. Considering the characteristics of the soil, we cultivate the land so that weeds do not grow, and consult with the team and experts to make it easier for delicious vegetables to grow. And I'm always on the lookout for weeds and diseases. I visit the fields frequently to check the condition. The situation changes depending on the weather of the day, so I really can't take my eyes off it. We are learning every day to adapt to this year's environment and deliver high quality vegetables. In addition, as the mechanization of agriculture progresses, there is a problem that the machine does not notice the parts that were noticed by hand. For example, you can tear off the worm-eaten parts by hand, but the machine harvests them all. That's why we grow good things even more beautifully. I feel very rewarded when the whole team prepares the soil and takes care of diseases, insects, and weeds, and when really good vegetables are completed.

Future with Kira Foods

I am very conscious of advancing smart agriculture. In this industry where there are many elderly people and few young people, there is a shortage of people in the bottleneck. Of course, mechanization will reduce labor costs and reduce the burden on the elderly, but above all, I think it is important to make it easier to work. Anyway, there is an image that agriculture is tough. I would like to encourage young people to take on more challenges by making it easier to work through mechanization. We are also considering selling fruits and vegetables. It's a shame when the crops don't come out on schedule, or on the contrary, they come out too early. Of course, I would like to be able to use the leftover fields and time to sell both fruits and vegetables while the dried vegetables are the foundation.